5 Additional Things You Can Learn About Your Site With SEOSpyder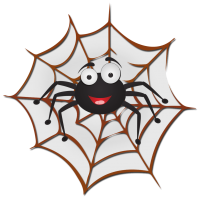 Ask any SEO optimizer about the way he/she works and you will undoubtedly hear them naming tools like Xenu or ScreamingFrog SEO Spider that do a perfect job when it comes down to fixing 404s, finding images without alt tags or links with anchor text that's too long. This is all good, but in the last 2-3 years search engines (Google in particular) have become "smarter" and now they take into account facts like social signals (Facebook likes, Tweets or G+ shares), whether all your internal links are relative, how your site behaves when visited by a mobile device, etc. To put it bluntly – due to the dynamic nature of SEO, the ultimate site crawling tool has to be flexible. It has to be customizable and provide a wide functional spectrum to the user.
So what are the advantages of the SEOSpyder, which is a fresher software, over crawling veterans like Xenu Link Sleuth:
Custom user-made filters;
Integration with other SEO services, a lot of social metadata for every link;
Crawl a site with a mobile bot and check out the time it takes the server to process it;
Find detailed information about the rel attribute of a link, whether it is relative or absolute, the shortest path to that link from the root directory and all H tags and their lengths on a particular page;
Many little, "quality-of-life" additions that make an optimizer's life easier.
Custom User-Made Filters – Definitely a Must-See Feature

Custom user-made filters possess great analytical potential. But what does that mean in terms of numbers – that you can study the links in thousands of different ways? Well how does UNLIMITED sound? When constructing a custom filter the user can choose among 80 parameters, meaning that the number of possible filter combinations is in the THOUSANDS, which can really make a difference when experimenting or testing out new approaches in SEO. As an example, you could easily construct a filter that shows you all the images that are .png (including those that are in the css file), are greater than 50Kb and have a loading time of more than 2 seconds. Another good example is when you are starting an internal linking campaign for your barcode products. You can make a filter that will show you all HTML pages that contain the word "barcode" in their titles and have less than 2 Internal Out Links. This feature of the software offers great product personalization and in-depth reporting. It is like a cooking recipe – reading the recipe you might presume that the dish would be delicious with the mentioned ingredients, but you have to try it to feel the real taste. Keep reading to learn how you can download the free version to get a taste of our product.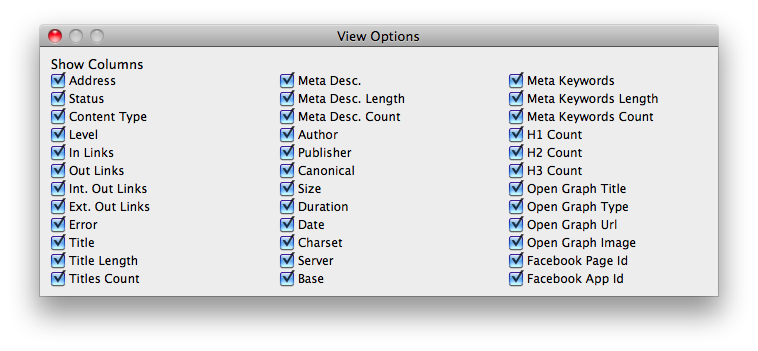 Even though the product is mainly a crawling service, the SEOSpyder provides its users with a number of essential SEO and Social metrics. If, some time ago, it was enough to just have good, relative content, with a few good and strong links, nowadays the picture is changed. Social platforms are growing bigger and bigger and search engines are accounting for that. It is important how you build your profile in these networks, what you talk about, what you share, tweet, follow. Roughly said social networks are like one giant voting machine and the more your products are socialized – the better. Therefore, for every link, SEOSpyder also retrieves Google Authorship Publisher and Author tags, which allows you to study the connection between yourself and your brand with your website, the Open Graph Elements, which determine what metadata is passed to the social sites when the page is shared And that is not everything, regarding social, that the SEOSpyder service can show you.
Checking Out a Set of SEO and Social Metrics
The SEOSpyder is strongly integrated with products like the SEOAuditor which allow you to audit a particular link for its SEO metrics like Google PR, Alexa Rank or SEOMoz DA & PA. What is more, with it you get access to the Facebook likes, Tweets and G+ shares of this particular link.
If you know what "pinging" is – an SEO term, used regularly, then SEOSpyder has one more pleasant surprise for you. Apart from the SEOAuditor, you can also benefit from the SEOPingler when right clicking on an URL. When pinging a link, you're basically telling search engine bots to come and index it, which means that they can visit your site not only when they want, but when you want as well.
Even though browsers don't "read" them, and they are not mandatory for quality SEO nowadays (bu who knows what Google might come up with in a future update), rel attributes of the HREF alements are recommended as they provide useful metadata for the crawlers. It is good to tell the bot that this link leads to the author of the article (rel="author"), to a help page (rel="help") or that the document is connected with a particular keyword/tag (rel="someKeyword"). Therefore, SEOSpyder gives these rel attrs and even allows you to find all In/Out links with particular value of the rel attribute (for example rel="software") by building a custom filter. That's what we call great analytical power!
There is another practice, that is again not mandatory, but is credential – to make your internal links relative. That leads to the next useful and unique feature of the SEOSpyder – in the bottom window, especially in the Internal Out Links, you can check out the "Absolute" and see which of your internal URLs are relative and which are not.
Shortest Path – Least Steps from the Index Page
Very often people wonder why would they need the "Shortest Path" tab in the bottom window. Understandably a page can be accessed from many other pages but the shortest path shows you the one with least steps starting from the root directory. Thanks to this option, one of our beta testers found that the contact form on their website is 5 clicks away from their main page. With average page views of 3.4 per visitor they started to realize why the number of requests they get is so low. Another useful application of the "Shortest path" is for detecting 404's easily.
If the Spyder tells you that your site has a 404 ,like: http://www.mobiliodevelopment.com/us/wp-content/uploads/2012/02/mzl.kscrigbz.320×480-75.jpg , you can go to "Shortest path" and check the page on which the image appears (or actually should appear), go to the page and remove the link. If it appears on more than 1 page, use the "In Links" tab to perform the exact same job, informing yourself about all the pages where the pic should be visible.
Before adopting the SEOSpyder, I used the ScreamingFrog SEO Spider, which is, undoubtedly, a good crawling software, but couldn't bring me that 100% efficiency I was looking for. On my websites I very often put more than 2 H2 or H3 tags – something that the "squawking" software can't detect. Then I found the SEOSpyder, which shows you all the H1, H2 and H3 tags, per page with their lengths.
Crawling with Mobile Bot and Time It Takes the Server for Processing It
According to the latest paradigm of Google, a mobile site should load in no more than 1s from which 600ms are for the server side and 400ms for the client (browser) side. Luckily, SEOSpyder allows you to crawl your site with a mobile bot (GoogleBot mobile) or with a mobile browser (Safari iPhone or Android Tablet). Moreover, in the top of the window, among the total 36 characteristics, you can find the column "Duration", which shows the exact server-side time for processing.  Quite handy and still unavailable among competitive software of this type.
In conclusion, the market of site crawling software, comprised of Xenu, ScreamingFrog SEO Spider and our SEOSpyder is still developing and evolving. These are products that alleviate every SEO optimizer and therefore are getting used by more and more people. Currently, SEOSpyder is the new performer on the stage, who definitely has more to show for and develop in the future. It is up to the users and SEO experts who have to say whether it stands a chance against the older products or not.