Android 4.1 Jelly Bean – 6 New and Updated Features!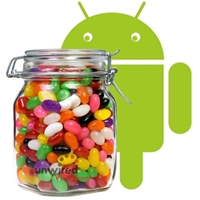 As I promised, after Google Nexus 7 tablet, next in the list is the new version of Google's OS – Android 4.1 Jelly Bean. Yes, that's right – Jelly Bean. Some of the users wonder who the hell comes up with the names – Honeycomb, Ice Cream Sandwich and now Jelly Bean. It is as if their marketing director is a 10-year-old child but after looking at all the cute and nice-looking icons and droid statues you understand that it is really a good branding strategy. Moreover if the OS is good and comes up with the users' expectations who cares about the name?
What's new in Android 4.1 Jelly Bean?
When Hugo Barra announced the new release 4 days ago at the Google I/O conference the rumors about a major update – Android 5.0 – were totally debunked. Instead an improvement called Jelly Bean came out and it uses the Ice Cream Sandwich as a foundation. There are few innovations, some of them substantial, some not quite but they are all meant to bring alleviation in your hands and to contribute for a better user-android-OS experience. Here is a brief list of what makes the Jelly Bean stand out of the crowd:
Project Butter;
Voice Typing;
New Camera options;
Android Beam;
Notifications;
And last but maybe most important – Google Now;
The buttery smooth performance called "Project Butter"
To begin with the so called "Project Butter". While getting the audience familiar with it, Dave Burke, Android Engineering Director, described the new interface with three words: fast, fluid and smooth. The system frame rate is increased at 60 fps. Triple Buffering which makes the CPU, GPU and the display to work in parallel without waiting for each other which only would lead to more consistent framework rendering. Touch Responsiveness that practically predicts where you will touch the display and boosts the whole power of the CPU immediately. To put it bluntly the UI of the Jelly Bean is buttery smooth.
Google Voice Typing Becomes Offline.
Next in the list with updates are the predictive keyboard and the offline voice typing and searching. It is handy to have a smart keyboard that will predict what you are trying to write and give you suggestions of how to continue your sentence. Thus writing an e-mail becomes much faster but do you know what can be faster and cooler that a predictive keyboard – offline voice typing. From Google have actually succeeded in shrinking the Google Speech Recognizer so much that it can be fitted into the device. So far voice typing and searching was based on an internet connection and if the signal was low and bad the voice recognizer wasn't acting very well. Now things are about to change. Some claim that the Google voice search service is similar to the Apple's Siri but if we have to be honest the offline factor is really amazing and surprised most of us.
Camera, Android Beam and Notifications.
What can be said about the Camera, the Android Beam and the Notifications. Well the user interface of the camera has become only faster and more intuitive. Instantly previewing and deleting pictures that were just taken has never been easier (before the Apple fan-boys have said anything I will clarify that I am specifically talking about Android OS). Android Beam, which was represented in Android Ice Cream Sandwich, enables NFC devices to "communicate" by simply tapping them to each other. The new in Jelly Bean is that you can now share digital content like photos or connect your phone with another NFC-enabled Bluetooth device like a speaker or the new Nexus Q, again only with a single, 1-second-taking tap. Amazing, isn't it? For those who think that NFC is still new Hugo Barra said that:
"There are about 1 million NFC -enabled devices that are shipped every week!"
Notifications have also undergone some alterations. They can be manually expanded or shrunk but what is more important – you can do certain things directly through the notification bar without opening any additional applications. For example someone has shared a picture in his G+ profile. "Plus" it and share it too without opening your profile. Just click on the buttons under the notification and it is all done. Furthermore another friend of yours has checked-in somewhere. Like his check on the second without even opening the Foursquare application. And it is all in the context of a faster and smoother Operating System! If you want you can read more about Google Wallet and "NFC tags vs QR Codes".
Google Now – The Clever Personal Adviser!
It may be last in my list but it is not the least important. On the contrary it was one of the sensations during the Google I/O conference. Behold the Google Now. Actually it is Google Now that would make your smartphone to be really intelligent and to act as a personal adviser that always knows everything. Just like a small intuitive droid that stays in your pocket and notifies you about forthcoming events. An example will make the way Google Now works clearer. Every day, at 8:00 pm you are leaving for work and are using one and the same route. Imagine that today there are some construction works on one of the boulevards and the traffic is being redirected to another longer and circuitous way. Well Google Now has understood that and in 7:50 it will not only warn you about the problem but will also suggest an alternative route which won't delay you. Another instance: you are going to Europe for a week and have booked tickets. Google Now will remind you about your flight in advance and will also provide details about the country where the visit is going to be – currency, weather and a lot of additional beneficial information.  But do you know what is more impressive – the more you use it, the more it gets familiar with you and your routines, hobbies and likings. It just gets smarter. Of course there were some skeptical comments about whether Google has to know so much about your personal life and isn't that kind of scary. Well it actually is, being aware that some software is always watching you and recording everything you do, but all in all by buying the device and the service it is you who allow it.
That is all according to software and hardware updates. My next article, last in the sequence for Google I/O announcements, will be dedicated to maybe the biggest phenomenon in this year's conference – The project called Google Glass.