Apple October event recap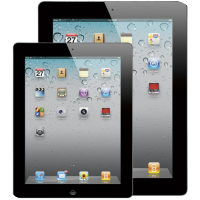 We finally know what new stuff we are going to get from Apple this fall, and most of the rumors were actually true and most of the new additions to the Macs, iPads and iPods are just awesome.
So what did Apple unveil?
The iPad mini
With it's 7.85-inch display, small size and low price it truly wasn't the star of the event.  The iPad mini's have the same 1024×768 resolution as the iPad 2 but because of it's size the there are hardly any visible pixels, still it can't be compared to the Retina display and we did truly hope for a Retina one. The guts are not impressive as well, the iPad mini is using the previous generation A5 chip and because of the lower quality of the display and the older processor they managed to increase the battery life to 10 hours. Well one disappointment for now and our expectations to have iPad 3's guts were destroyed. But we can't have everything we want, can we? It is still a great idea and now you can have an iPad in your "pocket" which can make it easier to read books and surf the net on the go.
Mac mini
Yes new Mac minis have been released and they are indeed thinner and faster. Currently there are two models a dual-core 2.5 Ghz Intel core i5 and a quad-core 2.3 Intel core i7 one. Both are using USB 3.0's, the same amount of RAM, the same graphics capabilities and ports but the HDDs are different. The dual-core model has a 500GB HDD, while the quad-core model uses a 1TB HDD. Those are the only changes in the system, but who would complaint about better CPUs?
The new 13-inch and 15-inch MacBook Pro
The MacBook Pros, unlike the iPad mini, were the star of the event and they are both using the Retina Display and are a true masterpiece. Both have a major overhaul in the display since both have an eye-popping resolution of 2560×1600 native resolution at 227 ppi for the 13-icnh model and 2880×1800 native resolution at 220 ppi for the 15-inch model. So you tell me for a better resolution, better CPU and better GPU will you choose the 13-inch model or the 15-inch one when it costs just $200 more than the 13-inch and you get better everything? Well i guess it depends where you are going to use it. Nevertheless this in our opinion was the biggest surprise and certainly a better addition than the iPad mini. Ok, now here are some specs and before i forget the DVD drive has been removed and replaced by flash capabilities:
Intel core i5 dual-core 2.5 Ghz with 3MB of L3 cache with 8GB of ram, Intel  4000 HD Graphics chip and two storage options and they are all SSD and the DVD drive has bee
15-inch has two available models
Intel core i quad-core 2.3 Ghz with 6MB of L3 cache with 8GB of ram and up to 16GB, Intel  4000 HD Graphics chip and an NVIDIA GeForce GT650M 1GB GDDR5 capable of better gaming experience and a 256GB of SSD storage.
Intel core i quad-core 2.6 Ghz with 6MB of L3 with the same RAM and GPU options but with a 512GB SSD storage.
The iPad 4
Well there you have it folks. A new iPad 4 and it did come a lot sooner than expected. We were thinking and hoping that it would come out at least after Q1 of 2013, but i guess now we have another must have gadget that we would like to see as a gift for the Holidays or for a birthday that is before 2012 because, let's face it, at this rate there will be another iPad next year. So, what's new about it? Well, despite the same look, feel, size and screen, the new iPad 4 has a new front facing HD 720p camera for better and more beautiful pictures and video calling like Face Time. Let's not forget the best improvement – the new 1.7GHz A6X processor it is a true powerhouse over the previous A5X chip. Oh, and it also has a Lightning connector instead of the 30-pin one. So if you are going to buy an iPad for the first time, we do suggest you buy the new iPad 4 because of it's faster CPU and better camera. But if you already have the iPad 3 you shouldn't jump into it if you are't a tech Guru and want to own the latest and fastest technology available, it works the same and does the same tasks and replacing it for the new one will be just a waste of money, but as i said before if you are a tech Guru, go ahead and buy one.
The new iMac
Kiss the old iMac goodbye, the new and improved version is here! It is just 5mm thick and the new hardware inside is just awesome. There are two models a 27 inch and a 21 inch model. The 27″ model is carrying a 2560×1440 display while the 21″ has a 1920×1080 display both use Intel processors (i5 and i7)  from which you can choose. The  amount of RAM, SSD and HDD can be selected from as well, both have new front HD 720p camera and no DVD drive. The only difference is the Graphics cards. They are both carrying NVIDIA GeForces but the 27″, of course, has a better and faster model than the one in the 21″. You will get what you've paid for and indeed this will be a great upgrade from the old iMac.
Those are the highlights of the Apple October event, if you've missed it or want more details the whole event can be found in the attached video bellow, thanks to EntertainmentBell for uploading the whole event in Youtube. We wish you a good day and try not to spend all of your money on the upcoming Holidays!