Apple's Q1 2013 revenue news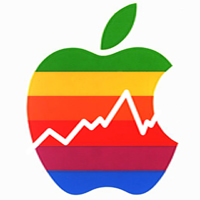 If you are an Apple shareholder then this will be good news for you. Apple have revealed their 2013 Q1 revenue results and these results include the sales trough the Holiday season. In this quarter Apple launched the iPhone 5, the iPad mini and the iPad 4G, new Macs…a little bit of everything actually.
Here are the statistics
Because of all those releases and the "Tis the season spirit" Apple reported a record for Q1 2013. The tech giant sold over 47 million iPhones, 4 million Macs, 22 million iPads and 12 million iPods! In comparison to last year, when Apple sold a little bit over 37 million iPhones, 5 million Macs, 15 million iPads and 15.4 million iPods. And Apple were proud to announce that the Q1 2013 expected revenue of $52 billion has been passed and the revenue reached $54.5 billion. This means then have a profit of about $13 billion and $13.8 per share. According to Apple, the Gross margin was 38.6% in Q1 2012 compared to this years Q1 which is 44.7%.
Apple's official press release:
Apple today announced financial results for its 13-week fiscal 2013 first quarter ended December 29, 2012. The Company posted record quarterly revenue of $54.5 billion and record quarterly net profit of $13.1 billion, or $13.81 per diluted share. These results compare to revenue of $46.3 billion and net profit of $13.1 billion, or $13.87 per diluted share, in the 14-week year-ago quarter. Gross margin was 38.6 percent compared to 44.7 percent in the year-ago quarter. International sales accounted for 61 percent of the quarter's revenue.

Average weekly revenue was $4.2 billion in the quarter compared to $3.3 billion in the year-ago quarter.

The Company sold a record 47.8 million iPhones in the quarter, compared to 37 million in the year-ago quarter. Apple also sold a record 22.9 million iPads during the quarter, compared to 15.4 million in the year-ago quarter. The Company sold 4.1 million Macs, compared to 5.2 million in the year-ago quarter. Apple sold 12.7 million iPods in the quarter, compared to 15.4 million in the year-ago quarter.

Apple's Board of Directors has declared a cash dividend of $2.65 per share of the Company's common stock. The dividend is payable on February 14, 2013, to shareholders of record as of the close of business on February 11, 2013.

CEO Tim Cook:

"We're thrilled with record revenue of over $54 billion and sales of over 75 million iOS devices in a single quarter, we're very confident in our product pipeline as we continue to focus on innovation and making the best products in the world."

CFO Peter Oppenheimer:

"We're pleased to have generated over $23 billion in cash flow from operations during the quarter, we established new all-time quarterly records for iPhone and iPad sales, significantly broadened our ecosystem, and generated Apple's highest quarterly revenue ever."

Apple is providing the following guidance for its fiscal 2013 second quarter:

• revenue between $41 billion and $43 billion

• gross margin between 37.5 percent and 38.5 percent

• operating expenses between $3.8 billion and $3.9 billion

• other income/(expense) of $350 million

• tax rate of 26
Apple predicts a revenue of $41-43 billion for Q2 2013 but that may or may not be reached or even passed, it all depends on the people and the new products released (if any). Despite Apple's strong financial performance, the company's stock price has constantly been going up and down. In the beginning of 2012 the stock price was in the $400 range, then it eventually went up to $705 in September 2012 before crumbling down to low $500 range in the beginning of January 2013. The biggest question now is whether Apple would manage to restore the previous or better state of the stock price with this strong revenue report and of course if the Q2 2013 revenue is also as good or better, that will happen.
If you are curious to find out how much does an Apple share cost now, you can visit the links bellow which will give you a real time information about the stock price:
http://www.nasdaq.com/symbol/aapl
or