Do you know what a QR code is?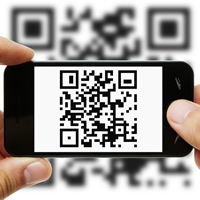 Everybody is familiar with the concept of a barcode is – a striped black and white picture that carries some small amount of information and is usually placed on a product. Ok but do you know what a QR Code is? Probably if you have a smartphone or a tablet, which is more than likeable these days. But to the main point – for those who don't know, Quick Responsive codes are 2-dimensional matrix codes that are able to carry impressive quantities of data (more technical details) and that are said to be the next revolutionary "big" thing that would change the way we, the average users, live, think and interact with each other .
Quick Responsive – a name deserved without any doubt, as a scanned QR code grants the user with instantaneous access to the encoded information, be it:
contact details – phone number, email, meCard;
any kind of URLs (it is very important for the URL to lead to a mobile-optimized website, but there will be an article specifically on this matter);
geo-location coordinates and information and many other.
You can encode basically anything, provided that the end QR code does not become too dense or too big and is still readable – after all not every device is equipped with  8MP camera like the iPhone5.
Why QRs are revolutionary and why now? Because when they were developed by Denso Wave in 1994 the main purpose of the Quick Responsive codes was to provide information for the moving car parts they were stuck to on the fast assembly lines. Nearly 20 years later the setting has changed dramatically. QR Codes are primarily meant to be scanned by a mobile device with a camera and nowadays nearly 80% of the world's population is estimated to be in possession of such mobile devices. The fact that almost all of these devices have internet connection through Wi-Fi or 3G transforms then into potential QR scanners. Bingo! All that's left is to download and install a QR reading app, if your phone/tabled doesn't already have one by default which is the case with some Nokia mobiles, BlackBerrys and almost all Japanese brand phones.
Despite the fact that experts like Matt Swain and Jim Hamilton claim that the usage of QR codes in their motherland are slowly starting to be replaced with fast mobile keyword searches, it is still there, in Japan where Quick Responsive codes are adopted widely. It is very hard to turn your eyes in Tokyo without spotting one – billboards, posters, train and subway stations, windows of shops, street pillars, restaurant menus. And although QRs have been in moderately wide use in Japan, other Asian countries and Europe for the past five years, most people in the Western world: especially in the USA, Australia, and New Zealand, are just beginning to adopt them and to discover their unlimited potential not only as an advertising tools but as a decent way to provide the modern average person with some useful information easily and on the spot.