Google Glass Project – Communications in Future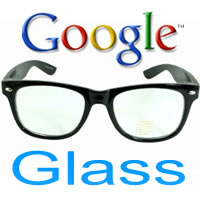 After Google Nexus 7 tablet and Android 4.1 Jelly Bean it is now time to say something about the biggest sensation of Google I/O 2012 – Project Glass. If you still haven't heard of it, which I strongly doubt, Google Glass is a device, looking like a glasses' frame, which brings all the functionality of an average smartphone right in front of your eyes. Contacts, mails, social networks, geolocation, digital content, or said with fewer words – augmented voice-controlled reality that provides the user with real-time information. And all the operations are done without even moving a finger!
If you had watched the teaser of Google Project Glass on YouTube and your mouth watered, chill out! Google Glass still has to go through a lot of testing and developing before being ready for mass production. At the I/O conference only the "most passionate and excited" about it had the chance to pay $1500 for the Explorer edition which will be shipped after almost a year. The gadgets, represented on the 27th of June, were only prototypes, tested by Google's employees. It is not even firmly decided whether it will be autonomous pair of glasses or just an addition that can be installed on a regular pair. At the demo of the Project Glasses the camera and the microphone, attached to a metal band, were put into use. Through Google Hangout the audience in Moscone Center, San Francisco had the chance to experience skydiving, biking and climbing from first person point of view. It was pretty spectacular and amazing. Obviously Google have understood that the secret is in that to be original.
Although the Project Glass is far away from mass usage, Sergey Brin, co-founder of Google Inc., put the emphasis on the fact that this utility is a whole new piece of technology that will be naturally used by people and will give them rapid access to all kind of information. But let's leave aside all the flashy videos, showing services that are still only concepts, and talk about something much more likeable and easier for realization: barcode integration from QRs to UPCs and EANs.
Many people nowadays distrust Quick Responsive codes because of two main reasons:
They don't know what it is;
It seems like a long procedure to put out their smartphones and scan while passing-by a QR;
While the first problem is harder and more time-consuming to be dealt with, for the second one there might be a very handy solution in the following years. In the Google Glass unit we saw a few days ago there was a camera which means that a barcode scanner can be integrated. Thus instead of stopping, pulling out your phone, starting the QR reader and finally scan simply make a voice command like "Scan this" while looking at the code and Voalah, it is instantly done without any bothers. Of course this would probably mean that some kind of browser will have to be supported by the glasses, but this is actually Google's problem.
Project Glass can also lead to a totally new way of shopping. The idea is pretty much like the Tesco Homeplus Virtual Subway Store in Korea with the only difference that you will actually see and touch the product before buying. Maybe this won't satisfy the lazy guys who love to shop from their couches. You will again go out, breathe some fresh air, visit the market but without pushing a trolley all around the store and waiting in an endless queue at the cash desks. When spotting a stock you will be able to check it out and then say "Buy this" while looking at the UPC/EAN barcode. When finished with the shopping instead of going home with the heavy bags, go for a walk and when finally getting home find all your purchases already delivered. Alleviation and Comfort!
Of course there were negative comments about Google Glass Project and how it would affect our lives. Isn't it scary the technologies to go so deeply in our routines? Probably some of them have watched too much the Terminator movies. I am just kidding, it is true that devices like Google Glass inevitably change the way we perceive everything and kind of separate us from our surroundings.
On the other hand these are issues that will be looked over only after the Glass units are made available to the world. Till then we can only wonder, imagine and assume what they will be capable of and to what extend they will change our lives.