Google Nexus 7 Tablet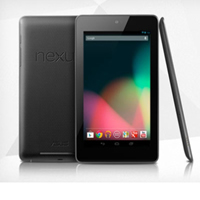 First were Apple, Microsoft followed, and this week it was Google's turn to gather our looks and to announce "What's new". And they really succeeded in attracting people's attention. New tablet, new version of Android OS and something that seems to have came out of a sci-fi movie – Google Glass. In order to be more specific I will elaborate on each of these three innovations in three separate articles. Number one in the list is the Google Nexus 7 tablet.
Technical Specifications
During the announcement at Google I/O, Hugo Barra, director of Product Management, Android, said the following about Nexus 7:
"Super-thin, light, portable and yet we have managed to pack a lot into this device."
But let's check out what hides under the nice-looking back cover. Google Nexus 7 is kind of pioneer because it is the first 7" tablet equipped with a quad-core processor – Nvidia Tegra 3 CPU. Yes, you read it right – a 7-inch IPS display with 1280×800 resolution and 216 ppi. Add to this the 12-core GeForce graphic card and the result is a stunning clarity, crystal-clear sharp images, smooth HD videos and unique gaming experience. Nexus 7 will be available in two editions – 8GB and 16GB. Some might refer the low storage capacity and the absence of an SD slot card and a substantial drawback but chill out! The tablet is cloud-oriented and is described as "specially made for Google Play". You can start watching an episode of your favorite series on the PC and stop it because you feel sleepy. On the other day you can continue watching the episode right from where you left it but this time on the tablet while commuting with the subway. Of course this is not something UNSEEN, (I am talking about the iCloud) but Google users will definitely benefit their personal cloud media library and the deeper integration with the Google Play services. Continuing the specification list, Nexus 7 has Wi-Fi, Bluetooth and NFC but no 3G or 4G connectivity. Moreover the camera is only one – front-facing 1.2 MP which is perfect for Google+ hangouts or any other video chats. A good question here is what the battery's life is and how big the tablet is? Hugo Barra said that the battery will able to stand for up to 9 hours in active-usage mode and up to 300 hours in stand-by mode. About the dimensions, they are 198.5 x 120 x 10.45mm and only 340 grams, or said with other words: Google Nexus 7 is like a mid-sized book that fits perfectly to the hand.
Prices and releasing dates?
It all sounds pretty cool but when is it going be available and more importantly – how much will it cost? The Google Nexus 7 will be shipped to the USA, the UK and Australia in Mid July which is pretty soon. It will be moderately priced – $199 for the 8GB and $249 for the 16GB version. When ordering one from Google Play you will be granted with $25 online credit in which makes the prices even lower. Google, unlike Microsoft, have decided to be more specific and tolerant to the users by unveiling all the details about their tablet.
Google is evolving?
It seems that Google are also trying to break the software mould and to shine out with their own devices. Surely it has to be explicitly mentioned that Nexus 7 is not purely Google's device. It was developed in collaboration with ASUS and can be seen even like Google/ASUS Nexus 7. Apparently Google have understood that the winning business model is the one in which you hold all the cards (software + hardware). They are trying, just like their competitors, to build own ecosystem of devices. Nexus Q and Google TV are only examples that support this theory. Of course monopolists like Apple are hard to be taken down but who knows what might happen.
What actually Google Nexus 7 means for the tablet market?
It will be absolutely ridiculous if someone calls Nexus 7 the next iPad killer. The chances for this to happen are extremely minor. The two devices are different in many aspects and making a comparison between them isn't very credible. Google/ASUS tablet is going to target the 7-inch market, and taking into account the prices and the parameters, the one that might be killed is Kindle Fire. It is 9 months older and this to some extend might explain the prospective dominance of the Nexus 7 over the Amazon's tablet. As you can see in the table, some of the differences, like OS versions and processors, are substantial and at the prices are the same. Furthermore soon new versions of the Kindle Fire will be released but they will probably be with 8.9″ and 10″ displays. This might only contribute for the success of the Nexus 7. You are probably wondering why haven't said anything about the OS of the tablet. Relax and check out my next article – it is all about Android 4.1 Jelly Bean. In the mean time feel free to share your impressions about the Google Nexus 7 below in the comments section.