Impressive Facts and Numbers about Apple Inc.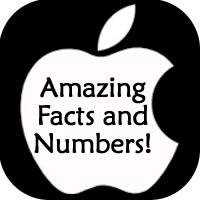 $35 billion revenue and nearly $9 billion profit defined as disappointing? Really?!? That was part of the tweet of the analyst Michael Gartenberg, concerning the report from the last quarter of the biggest, most lucrative and maybe most-successful company of our time – Apple Inc. And it is not only empty words and statements – the guys from Cupertino, California really have some interesting facts and big numbers in their bags that can literally blow you mind and change the way you perceive the technological market. Below I have done my best to pick out the most impressive:
1. For the last quarter Apple generated $35.2 billion which is only $4 billion less than the revenue of Microsoft, Google, Amazon and Facebook COMBINED ($39.4 billion)! The pure profit Apple alone has generated is more than the four giants together – $9 billion vs $8.3 billion. And they call this disappointing?!? If we zoom out a little bit the picture for the last 12 months Apple's revenue was $142 billion which is equal to the GDP of New Zealand.
2. Currently Apple have $117 billion cash pile and that's what makes people say it is the most successful company of our time. And it is not stocks or something else – only cash. To make it clearer, if they decide, Apple can buy Facebook ($60 billion), Twitter ($10 billion), LinkedIn ($11 billion) and Pinterest ($6 billion) and still have around $30 billion remained in their pockets that will be enough for the consumption of Dell. You can now take a breath and continue reading.
3. The impressive numbers mentioned above were possible thanks to the unique business model of Apple. They practically have built an ecosystem of hardware and software in which they produce everything. 75% of the substantial revenue comes from iPhone and iPad sales. So far Apple have sold 410 million devices, 365 million of which are iOS-powered and 70 million are iPads. During the last quarter, with the release of the new iPad, there were 17 million sold iPads which marked an 84% increase. For the moment they hold 62% of the tablet market which is a decrease compared to the 84% in 2010 but on the other hand the sales increased 150% from the last year.
4. Everybody can talk whatever they want, but what made Apple stand out from the crowd and really succeed 5 years ago was the absolutely revolutionary iPhone. Talking in numbers for the last quarter 58% of the revenue share or $22.6 billion are held by the iPhone devices. Nearly 35 million units were sold only in Q2 2012 (I can't imagine what will happen when iPhone 5 and iOS 6 come on the stage. If the rumors are right then Apple has some bad news for its competitors). Statistically measured 1 in 3 Americans that are smartphone users has an iPhone.
5. Leaving aside the hardware part, another great source of revenue and profit for Apple is the App Store. Right now there are around 650k applications and more than 30 billion downloads. Daily around 900 new applications are submitted. 47% of all the products are free. The other 53% are actually the gold mine because from every transaction Apple takes 30% of the revenue. I will leave the Math to you. And it is not only Apple that benefit s from that gold mine – developers take advantage too. Different platforms result in different money conversion. If in iTunes a developer makes a $1.00 for the same work and with the same product he would make $0.89 cents in the Amazon App Market and $0.25 cents in the GooglePlay store. The difference is obvious. Higher money flow attracts more developers which results in more applications in the App Store, more downloads and eventually – more revenue for Apple.
6. Did you know that China is a blossoming market for Apple. 20% of the Q2 2012 – $7 billion – came from there which is nearly 50% increase compared to the previous quarter and the unbelievable 300% increase to the same quarter last year. It is astonishing because they only recently got the new iPad there! Now 1 in 5 Chinese has or wants to have a Mac (China's population is 1.3 billion people). Maybe these again substantial numbers are influenced by the fact Foxconn, one of the main providers of Apple, is situated in China.
7. And something for desert – last quarter Apple TV outsold the Xbox of Microsoft. 1.3 million Apple units against the 1.1 million of Microsoft. It is really not bad for a service that Tim Cook, Apple's CEO, defined as "nothing more than a hobby". Sad story Microsoft.