Intelligent use of QR code in fixing issues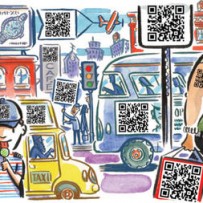 QR code is a two – dimensional matrix barcode. Nowadays it is widely used in our every day life. You can find it almost everywhere. For example QR barcode can be used in the advertising, helping service, to lead the people to some URL or to your website. With this type of barcode you can encode some SMS message, telephone number, some password, calendar event and all kind of cantact information. All this kind of stuff can be done by using our QR barcode generator that makes 100% compliant QR barcodes. It has an user – friendly interface and is available on the AppStore. If you are interest in this application you can find some tutorials on its page.
A few days ago I found something very interesting. It was a picture that shows how Samsung is using QR barcodes in order to help to their clients in troubleshooting some refrigerator. Here is the picture:
As you can see on the top of the list is written: "Top 5 troubleshooting tips for your refrigerator". And after that there is a list of problems that may have occur to you. If you scan them with some QR Reader, you will have this result:
By scanning the first QR barcode it will lead you to a video that shows you how to solve the problem with the ice maker.
By scanning the second QR barcode, there will appear a video that will help you to solve the problem with cooling.
The third QR barcode will show you a video tutorial about how to control the display and setting like energy saver, ice off, ice type and child lock.
The fourth barcode will show you a video that will help you with the frosting in freezer.
And the last one will lead you to a video that will help you in the connection between your refrigerator and Wi-Fi.
All this kind of data can be encoded even by you if you use QR code generator. It is an OSX application that is available for Free from the Mac Appstore.
This is one of all examples how useful is the QR barcode and how it is used. It is almost everywhere and can help you in situation even like this I have described above.