ISBN – International Standard Book Number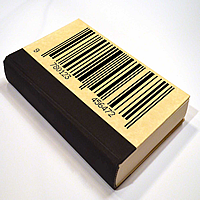 Nearly 40 years ago barcodes entered not only the retail but the book and publishing industry as well. From then till now the ISBN – International Standard Book Number – is used to designate books – both printed and e-versions – all over the world which greatly alleviates not only the process of selling them like products but also tracking them in library records or identifying them (the e-books) whether they are genuine.
But ISBN is not actually the first book barcode – it is more like a globally modified descendant of the SBN – Standard Book Number. SBN itself was based on the code developed in 1965 by Gordon Foster, Statistics professor at Dublin and was used in the UK till 1974. However it was in 1970 when ISO – International Standard Organisation took the 9-digit book barcode and by adding a 0 at the beginning turned SBN into ISBN – a 10-digit book barcode standard. The authority for controlling the registration of ISBNs was appointed to the International ISBN Agency.
Enough talk – let's check it out!

Ok, but if you take a book that is not printed privately and was published after 2007 on its back you will see that above the barcode there is a label – ISBN-10: <a code with 10 digits> but the numbers in the barcode itself are more than 10 – they are 13. This is because since 1st January 2007 ISBN started supporting 13 – digit format where the first 3 digits are an EAN prefix – 978,979 – for a fictitious country called Bookland. Thanks to Bookland the range of identification numbers expands greatly and at the same time no book is explicitly connected with a particular country. It should be noted that ISBN codes are not mandatory by law but are more than advisory as most of the bookstores nowadays handle only books that are marked with ISBN barcodes. It is like the EAN-13 and UPC barcodes in the retail – if you don't use them you simply can't sell your product (or at least it would be very difficult).
After being registered at the International ISBN Agency every publisher receives a block of ISBN codes which he/she can assign on his own. Below you can see an example of a partitioned ISBN barcode, generated with our multifunctional barcode generator, which is explained in details:
the first 3 digits are the EAN prefix and are either 978 or 979 – the Unique Country Code for "Bookland";
the next 2 digits designate the language group to which the book belongs; the most popular are:

0 or 1 – English;
2 – French;
3 – German;
4 – Japan;
5 – Russian;

after that is the registrant/publisher 4-digit element which is granted by the International ISBN Agency;
3-digit number which is like an identifier for the book itself for its title and author;
the last digit is the check digit; very cricial detail is that the ISBN-10 barcode and the ISBN-13 barcodes have different check digits as they use different encoding algorithms – SBN and EAN-13;
Try it out!
Important: this is just an example of an ISBN barcode. Usually the structure of an ISBNs varies and depends on facts like in what language is the book written, how big is the publisher, how many books has he/she published. Respectively a famous publisher with many books might get a block of ISBN codes where the registrant element is smaller and therefore the range of books to be published is wider.
As ISBN-13 is an EAN-13 variation it also supports add-ons as seen on the picture. They are EAN-2 and EAN-5 add-ons and are very convenient for designating editions of a particular book or just use them for tracking published items in a stationery or a library. After all EAN-13 is a barcode standard used in the retail and commerce.