Kaldata for iOS
Kaldata – your technological informator.
Kaldata.com is a Bulgarian website, with the status of a media, which provides its users not only with all the daily technological news, but with profound archive as well. Leading hectic lifestyles, not everybody has the time to sit in front of his/her home computer and start browsing the net. In the contemporary high-tech world it is a pity not to be well-informed. So we, from Mobilio, found a solution for you and it is called "Kaldata". The question was: "What is the only thing that our clients always keep near them?" The answer was unambiguous – their phones. With the application "Kaldata" you will daily receive all the news from the website kaldata.com, on your mobile device.
What are the benefits of using the application instead of the web site? First of all you don't have to open the browser, enter the URL and wait to load. Just click the icon and you are there. Moreover the content is much more synthesized. Only colorful tabs and buttons instead of windows, links and pop-up adds. Both simple and eye-catching. What a beauty! This, combined with the excellent functionality, is what makes our product a great one.
For the moment we have developed "Kaldata" for devices, working on iOS. You can check it out, it is available on the AppStore.
There is also a version for Android OS. It is available on the Android market or you can click here.
The version for Symbian OS and Windows Phone 7 will be released very soon. The program is distributed for free use!
Screenshots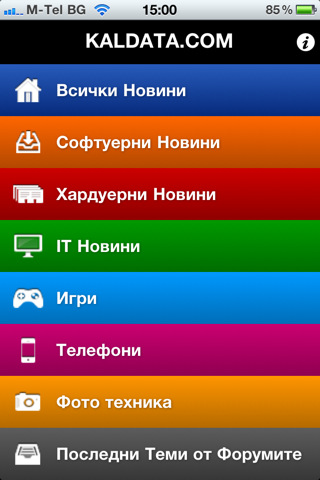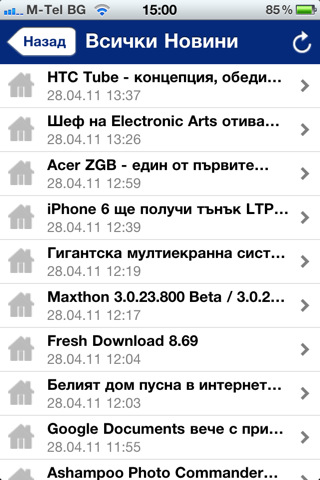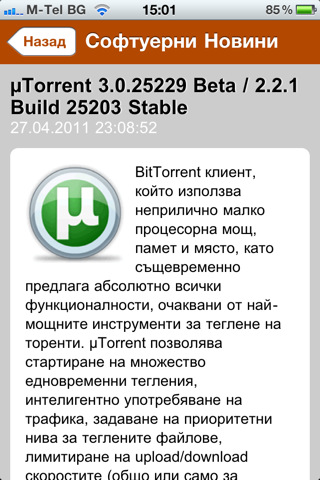 Tutorials
Here you can see how to work with the app by watching our video tutorials.
Download
Free
File size: 0.4 MB
Latest Version: 1.1
System Requirements:
iOS: 3.1 or later
Compatible with iPhone, iPod touch and iPad.Requires iOS 3.1 or later.