PDF417Encoder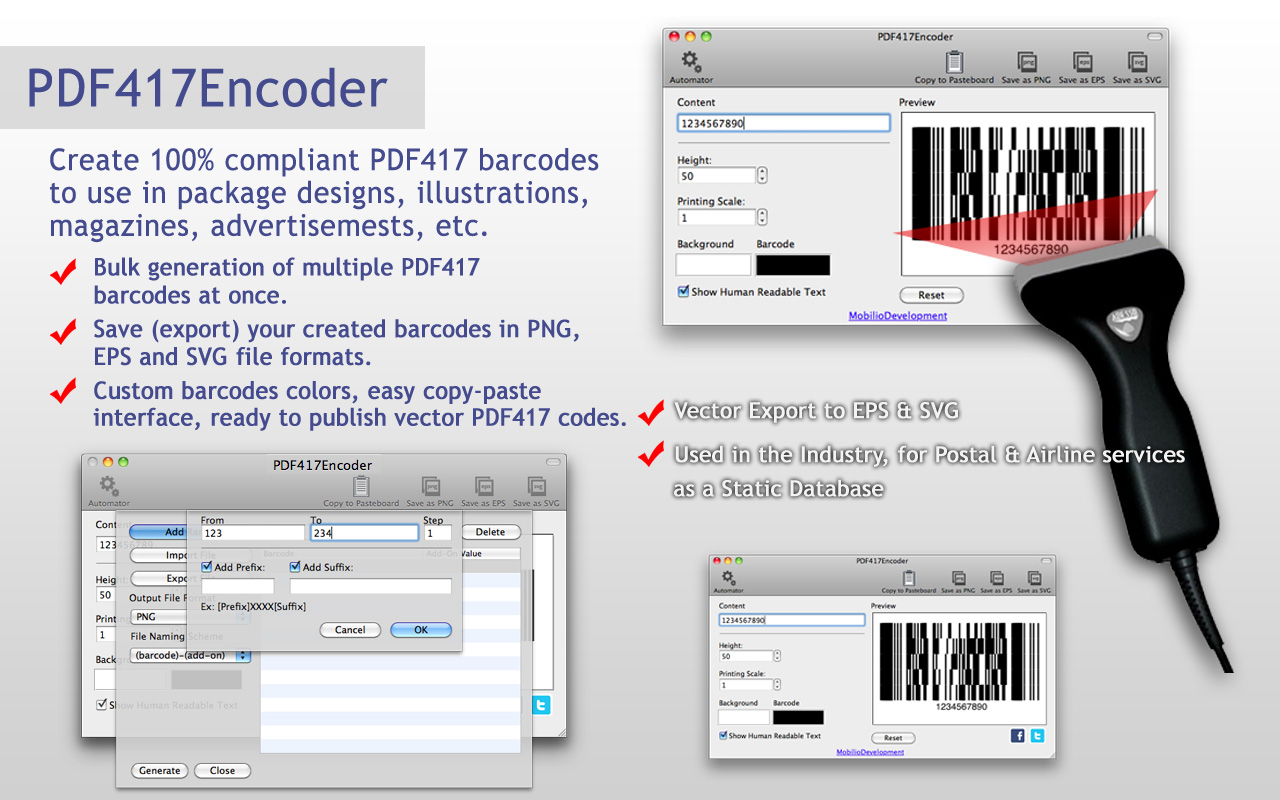 PDF417Encoder – PDF417 barcode generator
PDF417Encoder is PDF417 barcode generator that creates perfectly functioning PDF417 barcodes for use in packages, labels, envelopes, etc. The intuitive interface will alleviate your work greatly. Using the help section, your PDF417 barcodes will be created quickly and with no hardships. This, as all our barcode generators, includes the feature for bulk generation. With it you will generate tens or hundreds barcodes at once for multiple products. The formats in which you can save your final creations are PNG, EPS and SVG images.
This PDF417 barcode generator will make your barcode creation process faster and easier to manage than ever before.It is available on the Mac AppStore. There you can see our other great barcode generation apps: QREncoder and UPCEncoder.
What is PDF417?
PDF417 is a two-dimensional, linear barcode which, as the most barcodes, is used for product identification or tracking during transportation. It is made of vertical lines and spaces and the lines themselves are made of vertical, consecutive black and white parts. PDF is the abbreviation of Portable Data File. 417 stands for the following: each character is encoded with 4 bars and spaces and their total width is always 17 units.
As an advantage, the PDF417 offers its users a few features that are not present in the on-dimensional barcodes:
A few PDF417 symbols (barcodes) can be consequently scanned and as a result bigger amounts of data can be provided;
Custom Dimensions – the user specifies how narrow the bars to be (X dimension) and how tall the rows to be (Y dimension);
No license is required to use PDF417 barcodes;
PDF417 uses 929 encoding base. This means that each codeword represents a numeric digit between 0 and 928 inclusive. There are three encrypting schemes available:
Text where each codeword stands for one or two characters;
Byte where each group of 5 codewords stand for 6 bytes;
Numeric where groups of up to 15 codewords stand for up to 44 decimal figures;
PDF417, alongside with Data Matrix, is accepted by the United States Postal Service as an equivalent of the post stamp. It is widely used in the airplane services as identifier on the boarding passes. So if this barcode is so convenient and free for use, here comes the simple question – "How can I create my own" – and the even simpler answer – with PDF417Encoder.
Screenshots
Tutorials
Here you can see how to work with PDF417Encoder by watching our video tutorials.
This video shows how to use the Automator.
Download
Buy now for 1.99$
File size: 0.9 MB
Latest Version: 1.5
System Requirements:
Mac OS X 10.6 or later
This software is 100% Compatible with Mac OS X from Snow Leopard (OS X 10.6) to  Yosemite (OS X 10.10).