PZN – German Pharmacy Barcode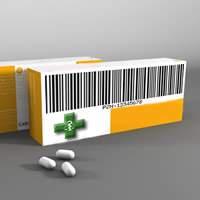 Did you know that Germany have their own and specific barcode for their pharmaceutical industry? Yes, that's right and it is called Pharmazentralnummer or Pharma-Zentral-Nummer which is abbreviated as PZN and means Pharmaceutical Central/General Number. It is mainly used as an identification tool for medicine and health-care products in Germany and some of the other German-speaking countries.
Pharmazentralnummer standard is basically a "cut" version of Code39 – it uses the same encoding algorithm but can carry only digits – 0123456789. Typically on every  barcode, like on the one below, created with our multi-standard barcode generator, there is a "PZN" prefix which is not part of the information that is carried. Then follows a minus sign and 6 or 7 digits in a row which respectively stand for the name of the drug/medicine, its dosage form, its strength and its pack size. There is also a check-digit which is calculated in Modulo 11. If you wonder what does the last one – well it is just pure Math. Just take the numbers of the Pharma-Zentral-Nummer and multiply the first by 2, the second by 3, the third by 4 and so on till the sixth by 7. Then add up all the results, divide the sum  by 11 and take the remainder (that's where Modulo 11 comes from). What's tricky here is that if the check digit happens to be 10 then the PZN  barcode is treated as invalid and is not released.
Something more interesting about the PZN topology is that there are two variants – the original PZN – PZN7 and the new one –  PZN8. The main difference is the encoding capability – while a PZN7 code consists of either 6 or 7 digits the PZN8 consists of 7 or 8 digits which gives wider ranger or pharma-identification numbers that can be generated. From 01.01.2013 (only 3 months ago) Informationsstelle für Arzneispezialitäten which stands for Observatory for Proprietary Medicinal Products stopped issuing PZN7 barcodes and switched to PZN8. However in order the transfer to be smoother PZN7 has been unified with PZN8 by adding a 0 in the beginning. It won't be before 01.01.2020 before PZN7 to be officially abandoned from the German pharmaceutical industry.
Pharma-Zentral-Nummer (PZN) barcode is not very famous worldwide as it is used only in Germany. The global pharmaceutical barcode standard is the PharmaCode. However if you intend to do anything connected with the German Pharmacy or are in the barcode business and have clients from Germany then PZN is a standard that is definitely worth knowing.