QR codes in Advertising – How to Use Them Effectively?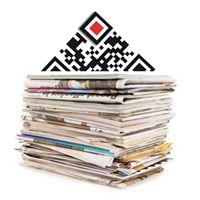 Although they were initially meant to be used in the industry, nowadays Quick Responsive codes find their greatest application in the fields of marketing, abstract advertisement and mobile shopping. What they can carry as an information varies from plain text to URLs, Foursquare venues, Tweets and even send SMS commands. Add these to the fact that QR codes can be quickly and easily scanned by almost every contemporary mobile or smartphone and you will see why are they so attractive to everybody who has a product or a service to promote.
QR codes can be a very useful tool in the advertisement industry due to many reasons but mostly because they are small, compact, make a particular product description much more concise and the access to it – much faster. Let's take the Real Estate market. Imagine you are an owner of a real estate agency that lets apartments in London. Your clients are mostly aged 18-30, people who are always on the move and barely have any time to stop by your window and start reading brochures to compare different flats. But how to predispose those people to use your agency and actually find all the necessary information they need without standing in front of your window. Well QR codes would do a great job here. Encode the URL to the web page of the particular apartment in a QR code and place it on the ad. Thus your prospective clients will be able to scan the codes of the desired flats in a few seconds, save them and give them a look later, while commuting to work. Moreover on the web page, to which a particular Quick Responsive code would lead they might find not only a simple description, but pictures, testimonials from previous tenants and even a virtual tour through the apartments, which would make their choice much easier.
But although it sound great and like a piece of cake there are a few things in a QR advertising campaign which if not considered thoroughly might lead to results, far away from the desired. Firstly it is very important how do you engage your clients. Give them a reason to scan! Brand your code by putting your logo in it or just place a small interesting slogan. If you are targeting a particular group of people redesigning can be very helpful – make a beautiful and attractive QR that would wake the users' curiosity, make a good first impression and stimulate them to scan. Take for example the campaign of the Scandinavian Airlines: "2 for 1 offer that takes 2 to see" or the one of Mercedes Benz: "the A-Class QR-Trophy". Both of them turned out to be really successful and are with right referred as one of the best QR advertising campaigns on 2012.
Furthermore think very carefully about the positioning of your QR. Make it accessible to as much people as you can – don't put it on a highway billboard or on a public transport's vehicle. Study the place beforehand in details because you might end up positioning your QR code in a sector of the subway where the internet coverage is very poor. If your code leads to a webpage or an application that needs internet then your campaign is doomed right from the beginning. Even if people are willing to scan the QR, they simply won't be able to see the result.
All in all there are a lot of examples out there undoubtedly proving that QR codes can truly be a very useful advertising tool. How do you use it or whether you are using it right is up to you.