Safari SEOBar
Safari SEOBar
So you think your site has high ranking? The truth is – you can't be certain until you check your global rating and page rank. What is page rank and global rating? Nowadays everyone with online business or with a blog knows what SEO is. If not, then SEO stands for Search Engine Optimization. So if you are hunting the higher ranking positions then you'll need to constantly check your SEO Metrics. There are many tools to check them but they can check only one element at a time – One analyzes your Google index, another checks your Alexa rank and another checks your site's traffic etc. They are just too many to count! You don't want that do you? Well we can help there. We offer all Safari users our new product – the SEOBar, which has all the functions you'll need.
Why do I need it and how does it work?
You ask why? Well if you're a developer, own a business and offer products to the public, or just a blogger trying to become popular, even if you just want to know the ranks of the pages you visit then SEOBar will help you find out how well the sites or blogs are rated and positioned on the internet. That way you'll know how reliable or viral the site  or blog  you are visiting is and you can certainly find out if people are truly interested in your site and in the products you have to offer and share with them, or not. Good SEO and social networks  are the key to high ratings, rankings and positions. Having an SE – Bot friendly web site will show the SE's that this site is trustworthy and then they'll rank it better which increases your position. When that happens, more people will show up at your site's doorstep. Social networks also play a great roll in all this. Here actually having a lot of online friends pays off. Each friend can read your announcements about new posts or products and then share this with his/her friends giving the thumbs up to the SE – bots which they'll read as positive feedback and rank you site better. So you get a better rank and more customers/viewers at the same time. That's great right?
So unlike our previous product the SEOAuditor, SEOBar is simpler because you can operate from your Safari browser with ease. It is placed right under you address bar. Convenient isn't it? The SEOBar offers and displays this information:
Google PR (Page Rank) – scale from N\A the lowest to 10 the highest. Trust us, high rating is very hard to achieve. It is like a game, the higher rank you achieve the harder ranking up becomes.
Alexa ranking – Alexa.com is a web information company which measures the page's traffic and then it ranks your pages and shows you which positions they have on the world wide web. Here you must achieve a lower number unlike Google PR. Alexa is one of the most valued SEO parameters so do not underestimate it!
Page tweets – everyone knows what Twitter is. People can tweet page urls from your site and doing so will display the number of times the page has been tweeted on your SEOBar.
Facebook likes – in this social era having a lot of Facebook likes is a big plus. The more you get and the viral it gets the more people will become interested in what you have to offer.
Google+ +1's – basically it is the same as Facebook but here you don't receive likes, you get a +1
So they show the rating, ranking and position of the page you are currently viewing. That means you can check your site's individual pages and see what is trending and what is dropping your ratings. And of course every parameter in the SEOBar is marked so that you know which is which.
How much?
You get this handy SEOBar for business, blogging or if you just want to know the rank of everything in the internet through your Safari browser, for the measly price of nothing. Yes it is FREE and can be downloaded from the Download button on the right side of this page.
Screenshots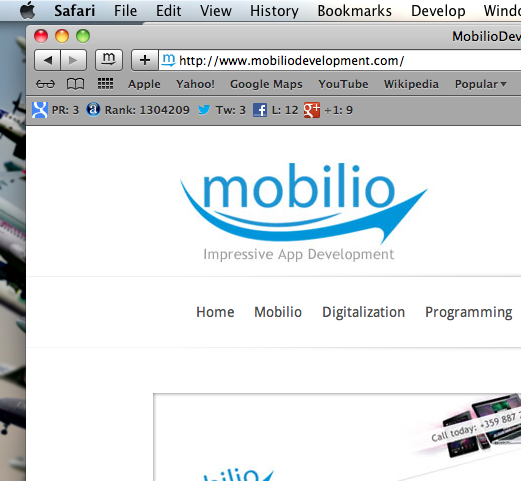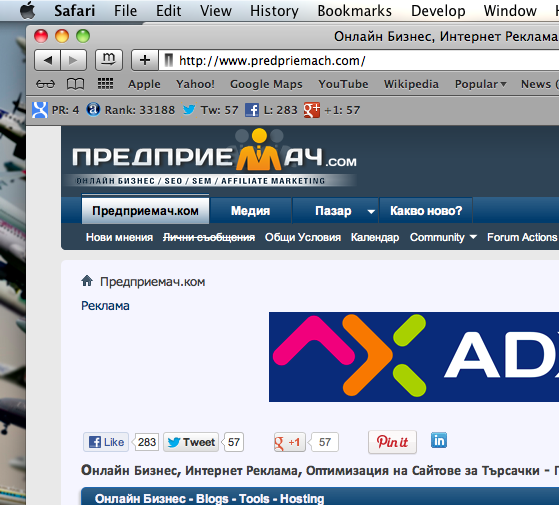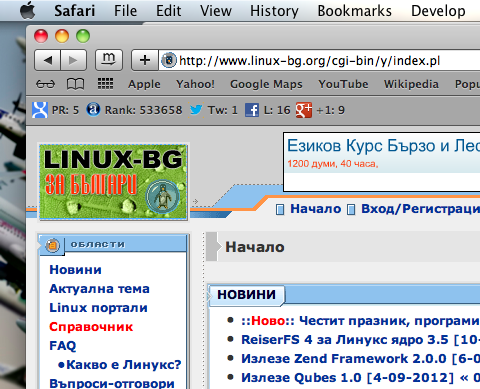 Tutorials
Here you can see how to work with the app by watching our video tutorials.
Free
Download
File size: 47 Kb
Latest Version: 1.0
System Requirements:
Safari 5.0
This software is 100% Compatible with Mac OS X from Snow Leopard (OS X 10.6) to  Yosemite (OS X 10.10).