SEOAuditor for Android
SEOAuditor – Always be SEO Aware!
SEOAuditor is the ultimate application that helps you always to be SEO aware. It offers great alleviation when things come down to maintaining a website and keeping or improving its positions in the search engine's ranking.
Being a SEO expert nowadays is not only about creating good and relevant content. The saying "Content is a King" is still truth but if you want to be really good at your field then writing is only 50% of the work. The other 50% are all about profound and more importantly – constant researching and checking certain SEO metrics – Google PR, Alexa Rank, SEOMoz DA and PA, data from the social webs.
When doing some work it is normal for everybody to want to see if the final results are good or bad. When talking about Search Engine Optimization good results mean higher ranking in the organic search result and respectively more generated traffic. The set of SEO metrics numbered above can show you whether your site is doing well or not on the basis of numbers, ranks and percentages. These parameters have been adopted by the general public and now have become a universal pattern for comparing two or more sites.
How SEOAuditor draws into the picture? Imagine the following situation: you enter a web site, a very beautiful web page, and start wondering what is its Google PR or how many people have liked it on Facebook. The first tedious and time-consuming way is to understand this is by opening a few more tabs in the browser and starting using different online evaluators. The other much easier and faster way is with the SEOAuditor. Open the application, enter the desired URL, hit "Go" and receive the:
Google Page Rank;
Alexa Ranking;
Domain Authority and Page Authority from SEOMoz;
Facebook Likes counter;
Twitter counter;
G+ counter (more specific information about any of these metrics and the way they are being calculated can be found here);
They are all provided instantly and at once, not separately. To say it with other words if we compare the SEO expert to a mechanic then SEOAuditor is his hammer, pliers, spanner and screwdriver combined in one. The interface, as in the version for Mac OS X, is handy and intuitive. One textbox, three buttons and the results from you query. Simple as that. The functionality is smooth and efficient. Many tests were performed on different devices with different Android OS versions and the results were excellent. Some of the beta testers were skeptical towards SEOAuditor at first but when seeing that you have everything you need in a few seconds after just inputting the URL and hitting the button their judgment changed drastically.
If you give it a thought SEOAuditor can be a convenient tool not only for constantly checking the metrics of your site, but of the sites of your competitors. Knowing that you have surpassed someone can be really satisfactory but at the same time knowing that someone is doing better than you can be really stimulating for working harder.
SEOAuditor is a perfect combination of user-friendly design and great and useful functionality. What is more the application is being distributed absolutely for FREE and with it you can perform unlimited number of queries for unlimited number of URLs.
SEOAuditor is truly an amazing and extremely useful application. Releasing it for platform like Android OS was inevitable. After all we are trying to stick up to our slogan: "We have seen the future, it is mobile!" Do not hesitate anymore and try the SEOAuditor on your tablet or smartphone and see how easy it is to be SEO aware! Also you can find the iOS version here and the OSX version here.
Screenshots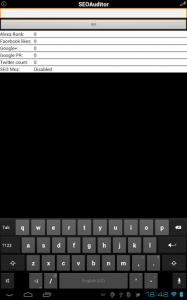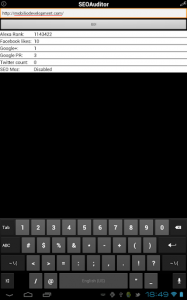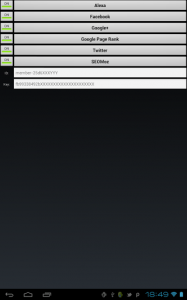 Here you can see how to work with the app by watching our video tutorials.
Download
Free
File size: 172kb
Latest Version: 1.01

System Requirements:
Android: 2.2 and up
All of our software is 100% Compatible with Android OS.