SEOAuditor for iOS
SEOAuditor for iOS
The best SEO awareness app is now available for all iOS devices! This app will help you be SEO aware and keep you in touch with the changes in your site's ratings, ranking and popularity. The program is very user friendly and it consists of one URL field and and a "GO!" button. The URL field is self-explanatory but to be sure, there you have to add the URL of the page you want to scan and receive information about the rank and rating of the page in the internet! Just hit the "GO!" button and in just a few seconds you will be rewarded with numbers showing how well or bad your site is placed in the internet. For those purposes SEOAuditor uses six very respectable metric calculators:
Google PR;
Alexa Ranking;
SEOMoz DA and PA
Facebook Likes;
Tweets;
Google +
The most important of course is Google PR (Page Rank). The Page Rank is an algorithmic scale that shows how popular a particular page or site is. 10 is the maximum and 0 or N/A is the absolute minimum. The number of sites having the maximum rank are just a few and by a few i mean you can count them on your hand. Google PR is like leveling up in a game. The higher rank you achieve the harder it becomes to reach the next rank, so do not worry if you are stuck on one rank for a long time, add more content and get more visits and sooner or later you'll "level up".
Alexa Ranking is second in superiority. Alexa.com is a web information company that is a one of the oldest in its field and that is why its rank evaluations are still very respectable. This time you are not looking for a bigger number like with Google PR, here you are looking to get the lowest possible number. Be warned you will start out with a multi-digit rank. Being SEO aware is key here, keep your site up to date with new content and sooner or later you'll be re-evaluated and will drop down a few/hundred/thousand etc. ranks.
SEO Moz DA (Domain Authority) and PA (Page Authority) are one and the same as DA concerns the domain and its sub-domains and PA concerns only a particular page. The show how possible is the domain to be shown higher in the search engines. It's ranking is like Google PR but the maximum is 100. Gaining a better rank in DA and PA is also like game leveling up, so for eg.  it is easier to "level up" from 20 to 30 than from 70 to 80. All of the calculations are based on many factors and in order for SEOAuditor to be able to extract the DA and PA from Seomoz.com, you'll need to sign up in seomoz.com. After the registration, a special ID number and a Secret Key will be given to you. Just input them in the app and you are done!
Facebook, Google +, Twitter are the most social networks with the largest amount of followers and participants, so the do play a role in site popularity. The most popular site is Goggle.com. Google has the greatest Alexa rank (which is 1) a ton of Likes, tweets and pluses, also the site has Google PR of 9. You'll say "wait, Google PR is not giving Google.com the rank of 10? But it's Google PR is, well, Google!" That ladies and gentlemen shows you that it's not controlled by Google and G PR uses it's own algorithm and Google has no control over it, well of course the maintain it but, still.
Well, that's that you can have this amazing app for the same price as air in the Apple iTunes store from the Download buttons on the right side of your screen. Also you can find the OSX version here and the Android version here.
Screenshots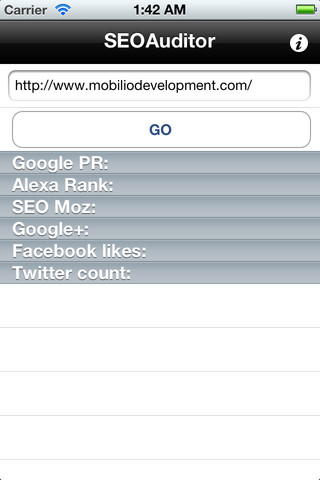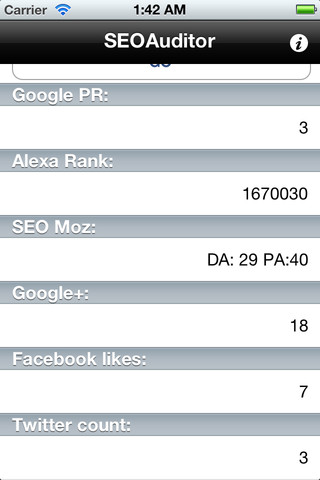 Tutorials
Here you can see how to work with the SEOAuditor for iOS by watching our video tutorials. The demonstration of  the iOS version starts at 0:57.
Download
Free
File size: 0.3 MB
Latest Version: 1.0
System Requirements:
iOS: 3.1 or later
Compatible with iPhone, iPod touch and iPad.Requires iOS 3.1 or later.