SEOggestor for Android
SEOggestor – Know what the search engines will suggest you!
SEOggestor is an application that practically allows you to "communicate with the search engines" and to manipulate the content of the drop down boxes that pop up immediately after starting to type something. The box in question is a service that eases the user by offering him different ways to finish his/her query. The offerings are based on what has been previously searched for the same keyword combination. It is nice that the search engines alleviate their users with the writing of long search queries by simply making them suggestions. Great for the users, bad for the guys dealing with SEO.
It is clear that everybody strives for higher ranking, but be careful. If you don't bear in mind the search engine's suggestions, in the end all the money and the efforts you have invested in your SEO might simply go down the drain. It is credential to include them when making the prior keyword research because up to 70% of the people choose to click on what they are offered instead of finishing their query manually. If your site is not optimized for the keywords in the suggestions this would mean less visitors for you. Understandably it is not very pleasant for to open 6 different tabs for Google, Amazon, Bing, Amazon, Yahoo, YouTube, and Yandex and to start examining their suggestions for a particular keyword. This is why SEOggestor might save your day. It is a FREE application which is perfect for people who are doing SEO. What it does is simply showing you what the six search giants from the above would propose. There are only two differences between browsing all the suggestions on the Web or in SEOggestor – everything is more accessible and more user-friendly in our product. With it unlimited number of queries can be performed for unlimited number of keywords.
If SEOggestor has to be described with a few words maybe the most appropriate way for this to be done would be by using a paraphrased version of Richard Bach's thought: "The simplest things are often the most useful." Truly the design is straightforward and disposes the user to operate with the program without any inconveniences. By default the product shows results from Google, Yahoo, Bing, Amazon, YouTube and Yandex. This can be easily customized from a set of checkboxes which define from where data to be extracted. The SEOggestor would quickly become "the best friend" for some SEO optimizers. As I already mentioned you don't have to look for the suggestions of all the search engines separately. Just input part of your query, click "Go" and find everything you need in a few seconds, not in a few minutes.
In order to be efficiently working, the SEOggestor has to represent the full functionality of the search engines' drop down boxes with suggestions. What I am talking about is the spelling correction feature that SEOggestor offers. While typing hastily, especially on the on-screen touch keyboards that are not comfortable for everybody, people often making silly mistakes like writing "New Yprk" instead of "New York". No need to bother. Google, Yahoo and the others are so smart that they instantly understand if your query has spelling mistakes and automatically show you results with the necessary corrections. When you ask the SEOggestor about a certain word or more, it connects the remote servers of the search engines and extracts what it needs from there by using the same checking algorithms. As a result you are provided with no wrongly-spelled names or phrases.
Having such a wonderful SEO tool on your smartphone or tablet is a great advantage. You are able to make the keyword research for a future optimization of a site in advance, no matter where you are and no matter if there isn't a PC around. As with the SEOAuditor, that is also available for Android, we are striving to keep up to our motto: "We have seen the future, it is mobile!" Do not hesitate any more but grab the alleviation that is standing there, only waiting for you! Give the SEOggestor a try and know what the search engines will suggest you!
You can also find the iOS version here and the OSX version here
Screenshots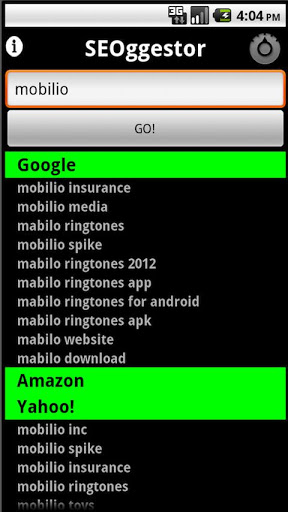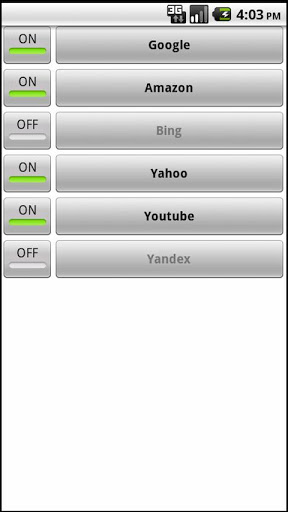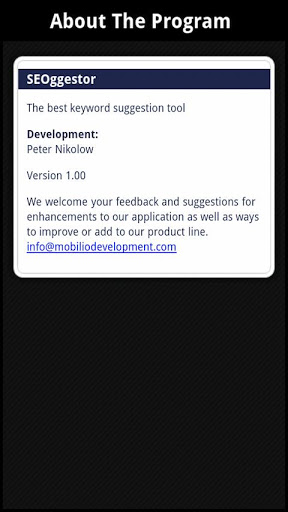 Here you can see how to work with the app by watching our video tutorials.[/tab]
Download
Free
File size: 49kb
Latest Version: 1.01

System Requirements:
Android: 2.2 and up
All of our software is 100% Compatible with Android OS.