SEOPingler
SEOPingler – Fast pinging
SEOPingler is a SEO tool that pings the largest search engines with a URL address. Probably, since now you have been waiting for a very long period of time, your site to be pinged. Well, now we have made this new software that will help you to ping your site within a few seconds.
This software will help engines to find easier the updated or the new part of your site. As I said after pinging a URL, search spiders visits the target page within a few seconds and crawls the page. Also SEOPingler is a great SEO tool for link bilders. It is a desktop application developed for Mac devices.
In the base of SEOPingler is the XML – RPC push mechanism by which a weblog notifies a server which content has been updated. An XML – RPC signal is sent to ping servers which can generate a list of blogs that have some updates. SEOPingler is software which can be used very easy straight from your desktop. It supports the following crawls:
Google;
Blogpingr.de;
Yahoo;
Syndic8 and many others;
SEOPingler can be used for easy and fast pinging. It has an  user – friendly interface and is very easy to use. So next time you want to ping some website check for SEOPingler on the Mac AppStore. Read more about SEOPingler.
Screenshots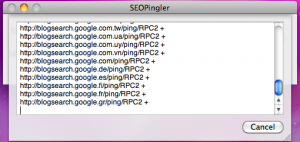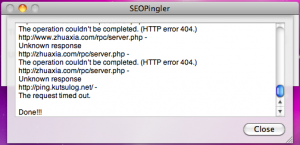 Tutorials
Here you can see how to work with the SEOPingler for OSX by watching our video tutorial.
Download
Free
File size:  0.5 MB
Latest Version: 1.1
System Requirements:
Mac OS X 10.6 or later
This software is 100% Compatible with Mac OS X from Snow Leopard (OS X 10.6) to  Yosemite (OS X 10.10).