Traffic Radio Station for Android
Traffic Radio – for house maniacs with Android devices!
Traffic Radio Station for Android is a mobile version of the internet Traffic Radio Station. It allows you to listen to your favorite house and club music on any Adroid-powered device. The application is more popular among users of iOS and currently has more than 2000 regular listeners. Being transmitted through internet connection at 128kbps/ 44khz, the radio can basically be accessed from any point of the world, as long as you are wired to the global web. The functionality and signal transmision are maximally optimized so there are no delays or lags. The interface is elegant  and nice-to-the-eye and in the same time it is extremely simplified so to be user-friendly.
Apart from the music, Traffic Radio provides its listeners with handy monthly programs about the broadcasts. Moreover there are links to the personal webpages of some of the Djs. It would be very useful to read something new and interesting about your favorite song mixer, wouldn't it? The style format of the radio is house & club music and the resident Djs are worldwide known. Some of the names are represented below :
DJ Chus (ES);
David Penn (ES);
Sergio Fernandez (ES);
Tocadisco (DE) and Mr. Music (DE);
The youngest DJ Van, who has his own show, is Bulgarian;
House maniacs or not you should definitely try it. The music is really nice and enthralling. A few minutes with the headphones and the radio running and you may reveal new horizons in your music views. What is more Traffic Radio is available has no trial periods and is being distributed absolutely for FREE! It is currently available on the GooglePlay App Store. Do not hesitate any more but try it and bring joy to tour ears! There is also an iOS version here. If you are fan of the internet radio we can offer you BGLiveRadio that available for OSX and iOS.
Screenshots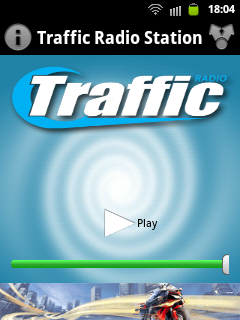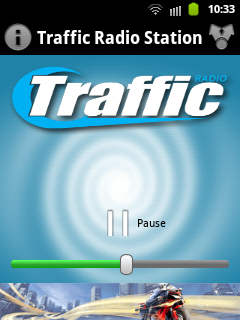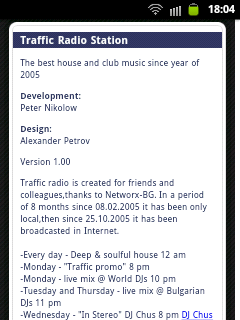 Here you can see how to work with the app by watching our video tutorials.
Download
Free
File size: 990kb
Latest Version: 1.0
System Requirements:
Android 2.3.3 or later
All of our software is 100% Compatible with Android OS.