10 SEO Tips and Tricks Part 1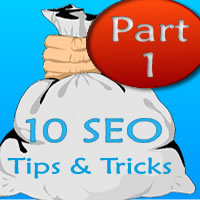 Nowadays internet business and online trade have become one of the most profitable sectors.  Daily millions of dollars are being virtually transacted for purchasing goods and products all over the world. The question is if I want to move my business up in the global web, how can I get more clients? Through the Search Engines and with good SEO! In the internet business there is one main principle:
higher ranking in the search engines' results = more traffic = more sales = more profit
In order to make its place among the results on the top page of Google, your site has to be SEO optimized. That's where all the magic happens. So if you are not one of those guys who are secretly praying to Google for higher ranking before going to bed, then below you can find a bag of free SEO tips and tricks that might prove useful. The advices are divided into two articles and are only briefly described because if I have to fall into all the details and specifics, not two but twenty articles will be needed. What is more all the 10 SEO factors are equally important and their order was randomly chosen.
1. Profound Keyword Research.

First think about the niche that your site is going to target and then start the keyword exploration. Using tools like the Google Keyword AdWords Tool is really credential. It shows all the keyword combinations that gravitate around yours and provide a set of useful metrics like rank of the keyword, global monthly searches and local monthly searches.
You better concentrate on the so called long-tail keywords (combinations of 4-5-6 words) because they will bring to your site more qualitative traffic. Long-tails are less looked for and therefore are easy to compete for. Furthermore if someone finds your site through them he/she will be more probable to stay longer and even make a purchase.
A good SEO trick is to include the Keyword Sugegstions from the search engines. 70% of the users are more likeable to click one of the suggestions that pops up after starting to write their query so if you are betting on long-tail optimization definitely help yourself with tools like the SEOggestor.
2. Regular site vs the WordPress platform.

SEO tip number two is the dispute – regular or WP site? Seriously barely anyone decides to create a site for internet business from the scratch. What is gaining more popularity is the WordPress platform that has many benefits and offers beautiful themes. Simply buy a domain, install WordPress on it and it is all ready. Search engines and their bots "like" WP sites more because they are better organized and are easier to crawl. Moreover there are numerous WP plug-ins that might prove to be very useful. On the other hand if you still are not ready to opt for the WP and are not SEO-experienced, then contact an expert in order everything to be done the way it has to be done.
3. Analyze and be SEO aware!

The Search Engine Optimization is not something that is done one time and then lasts forever. In the ranking charts everything is extremely dynamic and if you don't follow a set of certain SEO metrics concerning your site, than success will be hardly achievable. Knowing whether you are becoming more or less popular or whether you are gaining or losing positions is very important. I handy tool that I would recommend you for constantly checking the SEO status of your site is the SEOAuditor! Google Page Rank and the Alexa Ranking is what should be more carefully followed. If you want to keep an eye on who is visiting the site and how much time is being spent on it than Google Analytics is what you need.
4. Social medias and their great SEO potential!

Social medias and webs have become so popular and widely used that search engines are starting to pay more and more attention to them. If you have a Facebook page with 100k likes or a video on YouTube with 50k views this would give your site a substantial boost in the ranking positions. What is more such mediums with so many users are the perfect places for popularizing your brand and attracting more prospective customers. Of course don't believe that if you have 1000 followers on Facebook, when sharing something it will reach them all. It has been proven that only 15%-20% of your total audience is reached and if you want your posts to be more widely spread, they should be promoted, for certain amount of money. Not very nice but as in everything else – in order to make some profit first you have to invest and believe me, social medias can do miracles when taking the matter to generating more site traffic.
5. Let your users share and make you more popular!

Apart from being socially active, there is one more thing that should be done as long as social webs and medias are concerned – let your users be socially active while browsing your site. This can again be easily done with a WordPress plug-in like in our site. Scroll down the page and check out our social panel for the most popular sites where sharing really matters. Every user that clicks on this panel creates valuable backlinks and link juice for the site that will be taken into account by the search engines while examining and evaluating the shared page/s. Furthermore when someone shares/tweets a link it becomes available to thousands of other people who are again prospective clients. What is more, social webs have become smarter and if someone has shown an interest at your site in Facebook, after a while your posts might start to pop-up into his news feed automatically and therefore keep him aware of your new products or recent updates. This is a really good way to build up a strong community behind the site. If you want constantly to check your social SEO metrics SEOAuditor again will provide you with the number of Facebook likes, Tweets and Google+ shares of a particular URL.
If you have what to add to these first five tips and tricks feel free to write it in the comment section below. Here is a link for the another 5 tips and tricks!