Datamatrix Barcode Standard – Functionality and Usage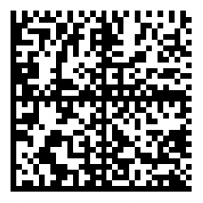 DataMatrix code is a two-dimensional barcode mainly used in Europe and in the USA. It is composed of small black and white dots, usually aligned in a rectangular or square grid. These dots are also called cells and each one of them stands for a bit. They can be colored in dark or light tints respectively corresponding to the binary type of data – 1 and 0. Check out Mobilio's Data Matrix code generator right now and download it from the Mac AppStore.
DataMatrix can store substantial amounts of information – more than 1, 5 kilobits which is equal to 3116 digits or 2335 alphanumerical characters. "Nothing special" – you would say – "It's like the other barcodes" but things are not quite like that. DataMatrix has two main features that make it different:
High data density;
High levels of data security;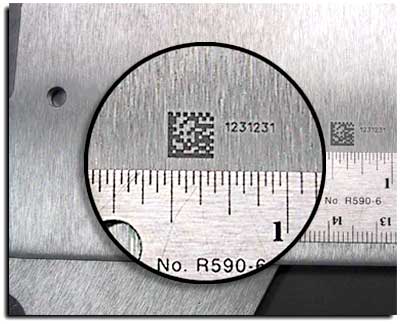 If I have to define places of application it is mainly used in the industry and in the medicine, where identification or referential set of characters has to be provided on a very small area, and when saying small I really mean small – DataMatrix can encode around 50 numerical characters in 2x3mm symbol. Such proportions are sometimes needed for tiny electronic machinery like chips and integral circuit, or in the medicine sector for assigning surgical instruments and pharmaceutical production. Of course there are certain limitations in the size – in order the code to be readable, a single cell should not be smaller than 4-5 device pixels. In addition matrix barcodes are rather tolerant to their users – they are legible even at 20% contrast ratio between the dark and light dots, so it is not mandatory for the colors to be black and white.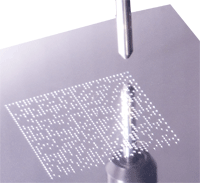 Continuing with the spheres of usage I can not forget to mention banking, postal services and even aerospace programs. Due to its adequate encrypting schemes, DataMatrix offers high levels of data security. Currently the code is adopted by the Deutsche Post, the US Department of Defense and by the Air Transport Association (ATA). All of them use it as an unique designator for parcels, weapons and aircraft parts, because it does not only make the workflow more accurate and effective but provides sufficient security for the carried information as well. Undisputedly safety is uppermost especially when talking about the government.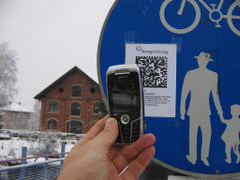 Apart from the top-secret military stuff, DataMatrix is also accepted as a marketing tool, known as Semacode. It is type of DataMatrix code used for advertising, which in the recent years has become really popular. In contrast with the normal checked black-and-white symbol, Semacode encrypts only URLs. It does not require any modern decoders or scanners like the regular DataMatrix – only a cellar phone, equipped with camera and decoding software. Its main function is to link physical objects with virtual content. For example after scanning a Semacode on an exhibition poster with your phone, you might be redirected to the site of the gallery, where you where more detailed information about the event can be found. If your phone answers the requirements described above, you can scan the heading picture of the article, which automatically will land you on this web-page. The concept is pretty much like the QR code but with minor differences.
Another convenient aspect of the DataMatrix topology is the error correction method, making your symbol readable even if it is damaged or badly-printed. It is based on the Reed-Solomon algorithms, like in the other 2-D barcodes. What is altered is that there are not many changeable error correction levels – only one with 25% restoring capability of broken codewords.
DataMatrix supports "Structured Append" which works just like the Macro PDF417, described in one of my previous articles. With its 1, 5 kilobits, the data capacity is more than satisfying, but there are still cases where more characters have to be encoded. Handy solution is to divide the information into parts and encode it within a few consequent barcodes. After reading them one after another, the scanner will successfully "understand" everything.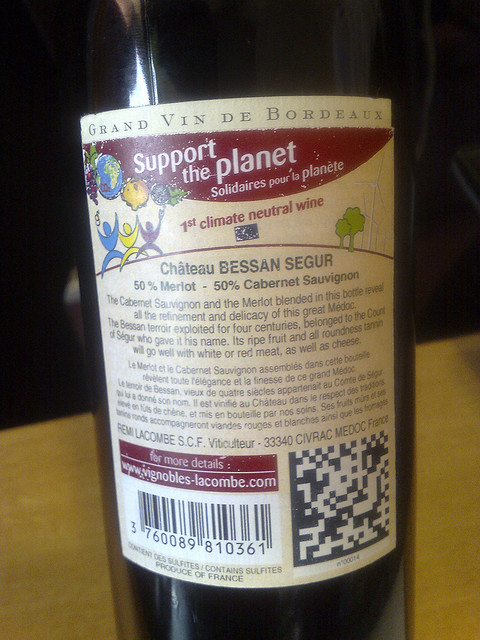 Because of its good technical specifications and many advantages, DataMatrix code is considered of the GS1 organization to become one of its worldwide acknowledged barcode standards. Like the Semacode, EAN DataMatrix is a subset of the DataMatrix symbology. What makes it special is the internal GS1 identifier, encoded in the data structure.
Like everything else DataMatrix isn't absolutely perfect, it has one small drawback – scanners compatibility. Normal linear barcode scanners are useless – only special 2-D ones are able to read a matrix symbol (excluding Semacode, readable by e phone camera). We hope that in the context of the fast-developing technologies this won't be a problem for long because DataMatrix has proved to be useful, convenient and reliable barcode to its users from all the spheres of life. Mobilio has not only DataMatrix generator but and other. Look at them now.