Passbook – ticket, boarding pass, card and coupon in one place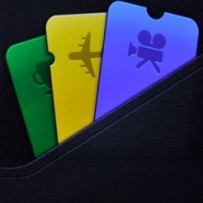 Passbook is an iOS application that allows the users to store their coupons, boarding passes, tickets and other forms of mobile payment. The application was released as a stock application part of iOS 6 on September 19, 2012.
The main advantage of this application is the geo location and the real time update of information. For example, if you are entering some coffee shop for which you have a coupon, it will appear on your screen in order to remind you. Also if you have booked a flight ticket and on the airport you are going to the wrong gate or terminal it will signalize and show you the right place where you have to go. At all this application is synchronized with your calendar and will remind you about all events whose deadline is approaching. The only thing that you have to do is to give the barcode to be scanned on the pass. You can add passes to Passbook via apps, mail messages and more.
The Passbook application works with the following types of 2D barcodes: Aztec code, PDF417 code and QR code. The other features that are available in the Passbook are:
Activated by location;
Activated by time of pass;
Localisation of the pass;
One of the barcodes that Passbook works with is QR code. QR stands for Quick Response Code. It is a 2D matrix barcode. Using QREncoder you can generate QR code that gives the users information about phone number, e-mail, meCard, any kind of URLs and geo locations, depends on that what kind of data do you want to encode.
The other barcode used in Passbook is PDF417 code. PDF stands for Portable Data File. It is 2D barcode and some of its main pluses are:
High data capacity;
Error correction levels;
Macro PDF417;
PDF417Encoder is our PDF417 barcode generator. Download it now from the Mac AppStore and create 100% compliant PDF417 codes. After all you can save your final barcode as PNG, EPS and SVG image.
Aztec code is also used in this application. It is two – dimensional barcode, mainly used in the transportation industry or boarding passes. Also some government, like Poland's, is using Aztec barcode in the car registration documents. As you can see it looks like almost like the QR code. Something typical for the 2D barcodes is that they offer "error correction level". Read more about Aztec code here.
If you are interest in barcode generation, we from Mobilio, can offer you a bunch of barcode generators: "All Mobilio's barcode generators". Download them and use them to produce 100% compliant barcodes. In the long list you will find products like QREncoder, PDF417 generator, Data Matrix code generator and many others.
In conclusion Passbook is an awesome iOS application that can help you in storing a list of paper payments. Using it you can make your life easier.